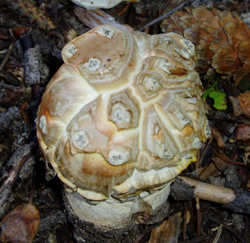 Wild Mushrooms
by BBC UK

If you go down to the woods today, you'll do well to go armed with a trusted guide and a sense of adventure. If you're lucky, your reward may well be a basket full of delectable wild mushrooms, a gourmet's delight.

Few activities bring out the latent hunter-gatherer in us more than foraging for wild mushrooms. After the autumn rains and evening chills, hundreds of types of wild fungus can be found pushing their way through the leaf-strewn forest floors. In hot pursuit are certain to be fungi-philes and hopeful gourmets, holding woven baskets and great expectations of a bountiful harvest.

Although many Britons still look on wild food with suspicion and consider foraging for mushrooms an oddly Continental pursuit, a growing number seem to be embracing the idea of fungi foraging. So, what is it that sends otherwise sensible human beings into out into the damp and cold, when they can simply buy packets of mushrooms – cleaned and ready-prepared - from the supermarket? Martin Lewy, who runs an internet mushroom site and occasionally leads mushroom forays, has a few ideas.

"Partly it's the hunter-gatherer aspect. Perhaps it satisfies some basic instinct," he says. "There's the competition aspect, too – who can find the biggest, best mushroom? Then there's the idea that you know how to do something that others don't - and the fact that you're getting for free what other people pay lots of money for." Indeed, the heart-stopping prices of wild mushrooms undoubtedly add to the attraction. In some parts of the country, regulations now limit the amount of mushrooms that can be gathered at one time. In Epping Forest, would-be 'shroomers must first obtain a (free) licence from the Corporation of London (which manages the forest) and are limited to 1.5 kilos, while in the New Forest, the Forestry Commission also now restricts foragers to 1.5 kilos of mushrooms per visit.

Full Story Click Here...