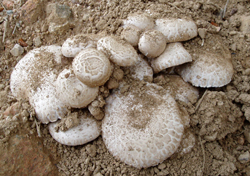 Return of the Fungi
by Deb Acord, The Gazette

Pity the wildflower. It tries to impress with its command of the color palette, choosing from memorable pinks, romantic lavenders and riotous yellows. But compared to the amanita muscaria, the average wildflower is, well, average.

Now, the Amanita muscaria -- there's a flower. Thick-stalked and bulbous with an orange-red cap sprinkled with snow-white polka dots, the Amanita rules the forest floor where it grows. Yet the Amanita isn't a flower you pluck to display in a vase on your dining room table. It's a flower from the fungi world, a place that's neither plant nor animal. This vast underground network of organisms shows itself only when conditions are perfect, which is just what's happening now in Colorado. After weeks of rain, mushrooms are, well, mushrooming throughout the state, and their fans -- mycologists and amateur mushroom hunters alike -- couldn't be more thrilled. "This is a banner year for mushrooms," says Vera Evenson, author of "Mushrooms of Colorado and the Southern Rocky Mountains" and curator of the mycological herbarium at the Denver Botanic Gardens, where she oversees a collection of 22,000 mushroom specimens. "People here are saying it's the best it's been in 25 years. Everything is fruiting."

Full Story Click Here...