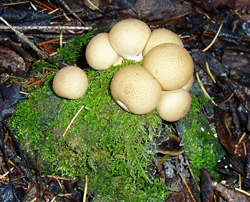 Mushroom Toxins
by Rania Habal, MD

About 100 species of mushrooms are poisonous to humans, and 15-20 mushroom species are lethal when ingested. No simple rule exists for distinguishing edible mushrooms from poisonous mushrooms. In more than 95% of mushroom toxicity cases, poisoning occurs as a result of misidentification of the mushroom by an amateur mushroom hunter. In fewer than 5% of the cases, poisoning occurs after the mushroom is consumed for its mind-altering properties.

The severity of mushroom poisoning may vary depending on the geographic location where the mushroom is grown, growth conditions, the amount of toxin delivered, and the genetic characteristics of the mushroom. Boiling, cooking, freezing, or processing may not alter the mushroom's toxicity. Variations in clinical effects may depend on an individual's susceptibility. In general, children, older persons, and persons with disabilities are at a higher risk of developing serious complications than are healthy young adults.

Full Story Click Here...