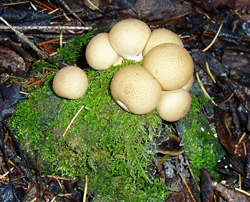 The Way of the Wild Mushroom
by David Arora

My first encounter with "mushroom pickers" was not by design. I arrived at a normally deserted campground in the Sierra Nevada, one that I have used annually for a spring mushroom workshop, only to find it occupied by a weather-beaten band of migrant mushroom pickers—three adults, four children, and assorted dogs and cats that lived and traveled in a 30-year-old school bus. They had been "sitting on the burn" (a nearby burned area) for more than a month waiting for conditions to produce a profitable flush of morels. Having seen sensationalized newspaper accounts of overly territorial, gun-toting mushroom pickers, I was surprised that they didn't try to chase us off. At the very least I expected them to resent the sudden intrusion and competition that my class of 35 citified adults (and nearly as many SUVs) represented.

But the next day I understood their unconcern. One of them, a teenager, picked more of the elusive morels in two hours than my entire class (under my "expert" guidance) was able to find in two days. I was impressed—and more than a little humbled. In a society where practically all children get their knowledge of nature secondhand, from schools and television, these young mushroom pickers were striking exceptions.

Nancy (where requested, I have honored the first-name-only tradition of mushroom pickers), the matriarch of the clan, explained that she came from a long line of fruit pickers. "Fruit is what I grew up in. Children used to be able to pick fruit, but not any more. Mushroom picking is the only thing left. It's legal for the children, and good for them because they get sunshine, fresh air, an' they get to experience what [kind of work] their parents do, which is real important."

Like most migrant mushroom pickers, Nancy has no bank account, no checkbook, no credit card. "In the last ten years I haven't taken a steady job once," she says with obvious pride. "It's pretty much been mushrooms and huckleberries." That night they enthralled us with tales of their exploits and adventures on "the mushroom trail"—a string of obscure logging and mining communities, crossroads, and frontier outposts stretching from Alaska to California. Cranberry Junction. Nass. Bella Coola. Boston Bar. Forks. Hungry Horse. Gospel Hump. Crescent Lake. Granite. Prairie City. Happy Camp. The names meant nothing to my class of weekend naturalists, but in the lives of these professional mushroom pickers they clearly loomed larger than San Francisco, Seattle, or New York. As one who has devoted his life to studying the worldwide harvest of wild mushrooms and other nontimber forest products, I resolved that evening in 1993 to join the "mushroom trail," and have been on and off it ever since.

Full Story Click Here...