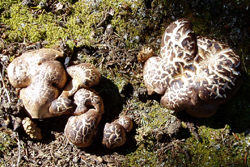 Mushrooms: 'the new medicine'
by Georgina Kenyon - BBC News

Scientists and doctors are beginning to realize the magic of mushrooms.

One prominent surgeon in the UK recently developed gall stones but swore he would not allow his fellow surgeons to operate on him.

So he turned solely to eating mushrooms from the supermarket for three months and the gall stones slowly disappeared.

The low fat content of his diet may have contributed to his recovery.

He told BBC News Online: "If I developed gall stones again I would not hesitate to go on a mushroom diet again.

"But there is no way I could recommend them to my patients or tell my colleagues I did not trust their skill in the operating theatre.

"There is not yet to evidence on the mechanics behind why I am cured. Science has not got there yet.

"And as a doctor I could not recommend scientifically unresearched cures to people. That is bad medicine."

Chinese led the way

But mushrooms have received backing from other senior figures in medical research.

One such proponent of their powers is Dr John Wilkinson of the herbal medicine department, Middlesex University.

He said: "Mushrooms have been used in China for thousands of years for medicinal purposes.

"The West is now well aware of herbal medicines. The next class of natural medicines will be mushrooms.

"Normal field mushrooms could possibly have a dissolving effect of gall stones although it is not proven.

"But it is well documented that a low fat and dairy-free diet can assist in the treatment of gall stones.

"Reishi mushrooms however do have a strong reputation for fighting health problems. Often patients are forced into medication and surgery when there are other safe alternatives."

Reishi mushrooms are particularly useful for treating arthritis through anti inflammatory agents called triturpinoids, which are similar to steroids.

Dr Wilkinson said: "Laboratory studies have also shown that resihi and shitake mushrooms can boost the immune system function as well."

Tonics of these mushrooms are often drunk in China for conditions such as arthritis, influenza and the common cold.

Mr Colin Johnson, consultant surgeon at Southampton General Hospital does not recommend mushrooms for the treatment of gall stones.

But he told BBC News Online: "I have seen cases where a patient fasts and then drinks olive oil to destroy gall stones.

"The gall bladder contracts and empties the gall stones from the body."

Dr Jordan Gutterman, from the MD Anderson Cancer Centre in Houston, Texas, US has been conducting research into the anti-cancer properties of chemical extracts from Australian desert trees.

He said: "Western science is beginning to understand the benefits of natural chemicals.

"Plants have evolved complex chemical systems to fight infection and disease and scientists are beginning to take advantage of the techniques that plants have already worked out, and use them for humans.

"The genome project highlighted the fact that plants and animal share many networks of cells. We can learn a lot from plants in how to fight disease."

Dr Wilkinson is in entire agreement. He is currently studying the African potato, which works as an immune stimulant.

Recent studies in South Africa, soon to be published have shown there are chemicals called lignans which boost the immune system.

Lignans are also found in the Indian spice, turmeric.

Dr Wilkinson said: "Studies have shown that lignans in the African potato can actually maintain the CD4 cell count in the body in HIV patients, preventing further deterioration of the immune system."

There are over 7000 species of herbs and mushrooms used in China.