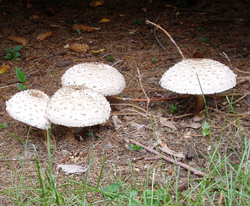 Mushrooms for Good Health?
by Andrew Weil, M.D.

I've been trying to include more mushrooms in my diet because I heard you say that they're really good for you. But now I've been told that certain ones are carcinogenic! Can you give me the straight scoop on this?

Mushrooms are big favorites of mine, but if you're just starting to learn about their medicinal properties, I don't blame you for being confused about which ones are, or aren't, good for you. In general, I advise against eating a lot of the cultivated white or "button" mushrooms found on supermarket shelves throughout the United States (portobello and crimini mushrooms are the same species). They are among a number of foods (including celery, peanuts, peanut products, and salted, pickled, or smoked foods) that contain natural carcinogens. Just how dangerous these natural toxins are is unknown, but we do know that they are not present in other kinds of mushrooms that offer great health benefits. If you do eat these varieties, never eat them raw and cook them thoroughly over high heat; that will break down some of the toxins.

Full Story Click Here...